Bareboating Information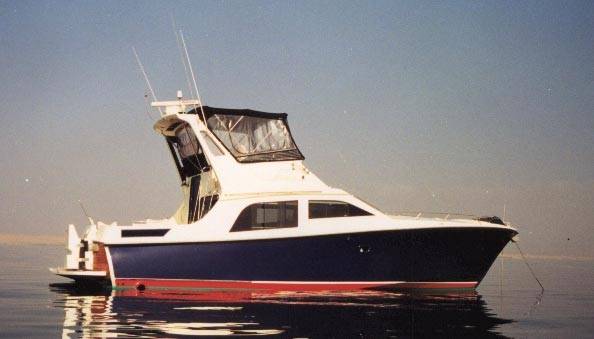 Bareboating is a wonderful way to experience yachting while you do all the driving and navigation.
In order to charter a yacht on a Bareboat basis you will need to demonstrate your ability to operate the yacht as well as your knowledge of the Rules-of-the-Road, navigation, safety, general boat systems knowledge, proper care, troubleshooting, etc. Please contact us for a copy of our Boater's Resume so that we can gauge your experience before reserving the yacht, Click here for resume. Our primary concern is your safety as well as the safety of those that will traveling with you during your cruise.
INVENTORY on our yachts include bed linen, silverware, and cookware as well as the standard Coast Guard Safety Packages such as life jackets, first aid kit, fire extinguishers, life ring, fenders, and lines. Please let us know if you will have small children onboard to make sure that we have the proper fitting life jacket on hand.
Nautical Charts: We do not provide paper charts as it is advisable that you have your own chart already studied and have a route planned BEFORE you arrive at our docks. Please let us know if you are unable to purchase the appropriate charts and guide books and we will send them to you via regular post or overnight for retail cost plus a small shipping and handling fee.
Check-Out and Orientation Upon your arrival, we will conduct a thorough systems orientation and mechanical / electrical briefing. A skills check-out will follow to help you get comfortable with the yacht with one of our captains onboard with you. It is preferable that this be done with the least amount of people onboard to avoid distractions. The Check-Out and Orientation process takes about one and a half hours. Extended Briefings and Lessons are also available with advance scheduling
Deliveries are also available to any major port in the Southeast and Bahamas.
Smoking In an effort to prevent odor and damage to fabrics, etc, we kindly request that smoking be limited to the exterior areas of the yacht.
Cellular Phones and Communications Please note that cellular coverage in the Florida Keys is generally good. However there are some spotty areas of no service. Cellular phones will not work in the Bahamas unless prior arrangements are made with BATELCO. Your service provider can help you with making these arrangements. MARI-TEL Marine Operators can be utilized if you are within VHF range.
What To Bring Sunglasses, light jacket or sweater, swim suit, sun screen, nautical chart/s, cruising guide/s, cell phone, camera, soft luggage or duffle bags, provisions, personal items.
Dinghy Most of our yachts are equipped with tender.
Illegal Substances and Illegal Use of the Yacht Please be advised that use or posession of illegal substances will result in immediate termination of the charter with no refund. The U.S. Coast Guard conducts frequent random boarding at sea looking for contraband and illegal aliens. The charterer will be responsible for all penalty's, fees, storage cost, and recovery legal fees, etc, should the yacht be confiscated.


Frequently Asked Questions
Question - I am fairly rusty now but I have over 5 years of boating experience which ended 3 years ago.....do you think I will qualify to charter a bareboat?
Answer - Operating a boat is much like riding a bike, the ability to retain and execute previously learned skills varies from person to person., however, generally speaking, the rust comes off quickly with most folks with just a few hours lessons. The cost of lessons or refresher courses is minimal compared to the peace of mind that it will provide you as well as your guests. We do recommend that you limit your cruise to easier cruising grounds until you get comfortable with the yacht as well as your navigation skills and use of the equipment.
QuestionHow much lead time should I give to reserve my yacht?
Answer-Most clients reserve their yachts about four months before their date of departure., however we have received requests with only 4 hours ahead of the charter time with positive results. Our large fleet and capable and professional charter specialists and crew almost assures a yacht for those last minute arrangements.
How do I book my charter?
Most clients select a yacht on our web site and then contact us to check availability. If the yacht is available we will place a working hold on the yacht for 2 business days while we execute the charter agreement and review the bareboaters experience (Bareboaters Resume), Upon acceptance of the Bareboaters Resume, a Reservation Deposit will be required. The Reservation Deposit amount varies from yacht to yacht, it is 50% of the charter fee at signing.
How are Security Deposits handled? For Bareboat Charters, a Security Deposit is required to cover damages that may occur to the yacht during your charter such as propeller and gelcoat damage. Security Deposit amounts are variable depending on the yacht. Your charter agreement will have all the information required.
Where are your yachts located? Our yachts are located in different marinas throughout the Miami , Fort Lauderdale, the Keys and the Bahamas area.
Do you accept Credit Cards? We accept only American Express credit card for Reservation Deposits and for Daily Captained charters at any time prior to departure. Bareboat Charters must be paid in cleared funds only.
Do you accept Wire Transfers? Yes, please contact us for wiring information. We prefer to receive funds via wire transfer whenever possible.
Do you provision the yacht? There are several options for provisioning. We can provision the yacht for you for a fee of $200.00 or you can pre-order on-line and have provisions delivered directly to the boat by contacting www.publixdirect.com.
Do you offer Airport Pickup Services? Yes, our limo driver can meet and greet you at the gate or at Customs if you are flying international. Please call us and make arrangements in advance.
Please call or email us with any other questions that you may have regarding chartering one of our yachts